Cuddle… Communicate… Connect!

Mother Goose Tote Bags Now Available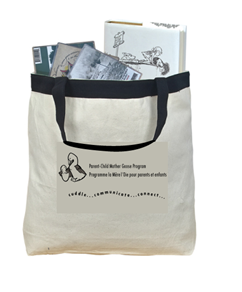 Our new Parent-Child Mother Goose Tote Bag features the program's highly recognizable goose and baby logo, along with the "cuddle… communicate… connect…" tagline. A great way to show your support for Mother Goose, and to carry program supplies, groceries, books — everything and anything!
Every bag purchase helps support the PCMG National Council in its work promoting the Mother Goose program in communities across Canada, training teachers, and keeping teachers and programs connected.  
Bags are just $23, including shipping and handling!  Find out how to order yours today!
---
The Parent-Child Mother Goose Program® is a group experience for parents and their babies and young children.  The program introduces adults and children to the pleasure and power of using rhymes, songs, and stories together.
Parents gain skills and confidence which can enable them to create positive family patterns during their children's crucial early years.  Children benefit from enjoyable, healthy early experiences with language and communication.
---