The Parent-Child Mother Goose Newsletter is a great way to stay connected with news about the program, learn new songs and rhymes, and find out about upcoming trainings or events.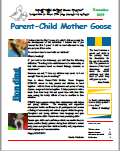 The Fall 2019 issue of the National Parent-Child Mother Goose newsletter includes stories, rhymes and songs, along with news and updates on programs in other countries and across Canada.
Please send your comments, questions and ideas for items to include in future issues to Ivanka Gotcheva at ivgotcheva@sympatico.ca.
Past Issues
Writers wanted!
To find out about contributing an item to our next newsletter, please contact our Communications Committee, at info@nationalpcmgp.ca. News about your program, a song, a rhyme, stories and pictures are all welcome!