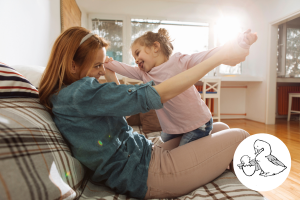 September is here and that means it's a time for families to encourage and explore literacy together. Literacy is so much more than reading! It's your ability to listen, speak, write and understand.
What better way to encourage literacy development, then through the power and pleasure of songs, rhymes and oral stories.
The Parent-Child Mother Goose Program encourages literacy development for all ages and all stages, by:
Encouraging listening skills and the ability to hear the differences between sounds
Exposure to words and melody
Using a slow pace and focusing on repetition and imitation
'Turn taking' in songs and rhymes
Pairing words with actions – even our little ones who can't express themselves verbally can start to participate with some actions!
Rhymes and rhyming words help with phonemic awareness, which is a precursor to eventual reading!
… And so much more!
The best part about using Mother Goose songs, stories and rhymes? It offers a new way to connect with your child. It offers a new way to communicate, a new way to play, and a new way to bond with your family.
September reminds us that these magical moments should be celebrated. Songs, oral stories and rhymes are wonderfully powerful way to promote literacy.