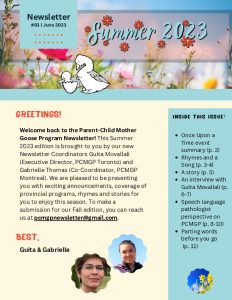 Summer is nearly here! We are so pleased to share our National Parent-Child Mother Goose Program® Summer 2023 Newsletter.

This issue is FULL of great information, P-CMG history, interviews, and of course, songs rhymes and oral stories.

Our newsletters are a great resource for new material. You'll find National Council news and updates, projects we're working on, and ways that you can help us.

We love hearing from you! Connect with [email protected] to share your stories, rhymes, pictures and news. Tell us about your program – sharing your stories brings joy, strengthens the network, and creates energy across Canada and across the world.

Happy singing, rhyming and storytelling!