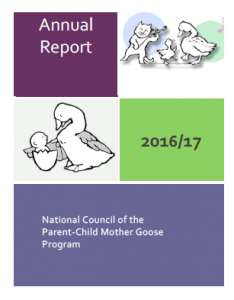 The National Parent-Child Mother Goose program will be holding its 2017 Annual General Meeting on November 28, at 3pm Eastern Standard Time.
The meeting will be held via conference call, and all members are invited to join us to share what is happening in their program and community, and to hear from others around the country. The Annual General Meeting is a great opportunity to connect with other Mother Goose teachers and supporters.
To find out how to connect to the meeting, email us at [email protected]
If you can't join us, you can still stay up to date with the activities of the National Program, by reading our Annual Report.