The fall issue of the Parent-Child Mother Goose newsletter is now available!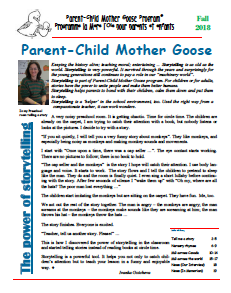 For those of you who have requested new stories and rhymes, this latest issue of the National Parent-Child Mother Goose newsletter will be a real treat, full of new material. The newsletter is also a great way to catch up on what is happening with our programs in other countries and across Canada.
Please send your comments, questions and ideas for items to include in future issues to Ivanka Gotcheva at [email protected].
Annual Report 2018
Interested in learning more about the activities of the National Council of the Parent-Child Mother Goose Program over the past year?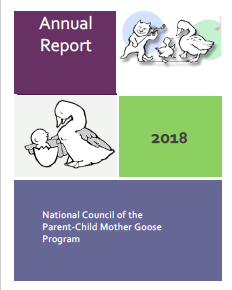 Our Annual Report is essential reading!
Check it out for reports on fundraising, membership, and key committees such as the Programs and Training Committee.
Our sincere thanks to all those who volunteered their time over the past year to participate on committees and advisory groups, and to those who made donations to support our work. Your support of Mother Goose is deeply appreciated!