Our newsletters are a great way to keep connected with our National Mother Goose family. Here you will find how programs across Canada (and beyond!) are providing groups that connect families and communities through the power and pleasure of songs, rhymes and oral stories.
You will stay connected with news and updates, learn about training and other events, and find a host of new songs, rhymes and stories to add to your repertoire.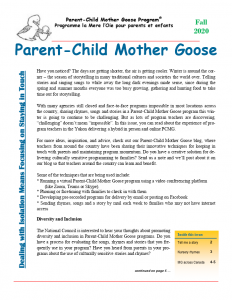 Members receive four issues of the newsletter each year, and we make past issues available on our website as well.
Our current and past newsletters can all be found in the Resources section of our site  – and don't forget to reach out if you have a story idea. We would love to feature your idea in an upcoming newsletter!
Check out the Fall 2020 Issue to learn about how programs in Whitehorse, Yukon have been adapting to pandemic restrictions.
Read the Winter 2021 Issue for news about programs in Newfoundland and Labrador.