Spring has sprung, and we're so pleased to present our Spring 2021 Newsletter. In this
new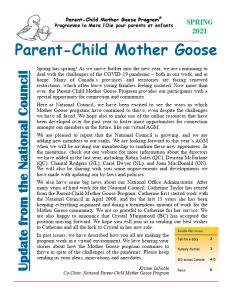 sletter, you'll find a GREAT collection of new,
exciting, spring-themed songs, stories and rhymes.
You'll find National Council news and updates,
projects we're working on, and how you can help us!
In this newsletter, we are showcasing a heartwarming
story from the Mosiac Newcomer Family Resource
Network. They share how their Parent-Child Mother
Goose Program, full of fun and community connection, makes a wonderful impact in the lives of children, parents
and caregivers, and facilitators alike.
You can find a copy of our 2021 Spring Newsletter
(along with all past editions) under the resources tab,
or by clicking here!
As always, we LOVE to hear from you! Connect with Ivanka to share your stories, rhymes, pictures, and program news. Tell us about your program! Sharing your stories brings our Mother Goose community joy, strengthens our network, and creates a wonderful, positive energy.
Happy Spring!